Accommodation
We no longer host B&B guests in our home but have a fully fitted self-contained unit available for people wishing to stay which still has access to our farm animals, our spa pool, and the other features of our property.
The Self Contained Unit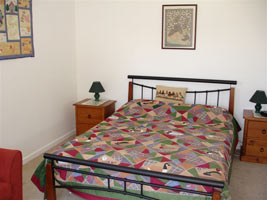 This unit is the perfect place for a peaceful getaway, roomy, spacious, warm and matches the rest of the Rivendell B&B's friendly environment.
As with all the rooms, the "Duck Flat" provides tea and coffee making facilities for you as well as having a television available.
The kitchen facilities in the self contained unit match the rest of the self contained flat, with simple spacious areas to work in preparing lunches, dinners or breakfast, or catching up on the washing if you have been away from home for a while.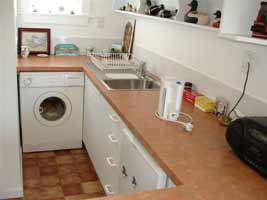 If you really want to unwind, then you don't have to make your own breakfast at all, instead you can arrange to dine only 1.6km away (a 3 minute drive) at the Orchard Cafe, a renowned all day cafe with cooked breakfasts from only $12 as well as their farmshop, Pukeko Gardens and Orchard if you wish for more.
Tariff: Self Catering $130 per night
home | accommodation | facilities | about us | local attractions | contact